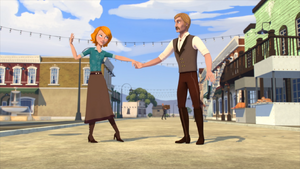 The fiesta is a presumably annual event in the streets of Miradero, lasting throughout the day and night, featuring food, games, dancing, and entertainments. Stalls sell candy, apples, candy apples, and baked goods. Mr. Winthrop hosts a jellybean-counting booth. A pie-eating contest happens at mid-day.[1]
According to Pru, the best part of the fiesta is the charreada, which, in Lucky's first year back in Miradero, starred Javier performing lariat and horse riding tricks in the ramada.[1]
A nighttime dance in the main street includes singing. Pru took over singing duties when Doc Wilkins fell ill. The dance marked the first time Jim Prescott held and kissed Miss Flores at the beginning of their courtship.[1]
References
Community content is available under
CC-BY-SA
unless otherwise noted.