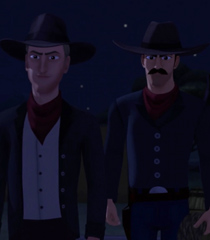 Like Mr. Granger's mesteñeros accompanying Grayson, Butch Lepray's accomplices are two men who appear in two episodes with their leader--one off which is taller than the other. They helped Butch in her schemes.
They posed as men who were trying to bring a bandit to justice. While the circus was performing, they stole the circus's till. Lucky, Spirit and Jane followed them but were then cornered by the men. Jane then reveals that she was Butch LePray and ordered the men to lasso Spirit and kidnap Lucky for ransom. After tying Spirit to a post, the shorter one picked Lucky up and carried her to a wagon, that both she and the till were thrown into. The bandits then drove off into the night.
After Spirit was rescued by the other PALs, he galloped off, found the wagon and knocked both accomplices off their horses, then assisted in sending Butch off a cliff. The sheriff then arrested both men.
The two accomplices then joined Butch in the kidnapping of Jim Prescott. While they were on the train, Grayson ambushed the taller one and then took on the shorter one, with Lucky's help. Both men were later arrested again by the sheriff, along with Butch.
Community content is available under
CC-BY-SA
unless otherwise noted.